Submit URL To Google Search Console (4 Easy Steps)
How to submit URL to Google and grow your blog traffic! So, you have started a blog, you've written a few blog posts using excellent search engine optimization strategies, and you are now ready to be discovered in Google.
It's time to submit your URL to Google so you can show up in search results!
This site uses affiliate links and ads Disclosure - Advertise With Us
How To Submit URL To Google Search Console
Google's bots crawl websites frequently and then use the information they found while crawling to display those websites in search results when relevant.
It is important to submit your website to Google so that the bots will crawl your site.
You will be able to submit your website URL to Google in just a few steps today, and this is something that you only need to do once.
What Google Bots Are Looking For When Crawling Your Website
There is actually a ton of criteria that the Google bots are looking for when crawling your website.
But the main things to focus on is the information and keywords in your title, URL, meta description, heading tags (H1, H2, ect) paragraph content and images.
Remeber that when you submit your URL to Google, you are signaling to the Google bots you are ready to be indexed but this does not mean that you will automatically rank in Google or show up in any search results. Actually showing up in search queries happens with well thought-out SEO.
If you haven't learned the basics of SEO to rank in Google you need to enroll in our free SEO Made Simple course.
Submit URL To Google: Step 1
The first thing you need to do to submit your blog to Google, is you need to add your website to Google Search Console.
To easily connect your blog to Google Search Console, make sure you have the Yoast Plugin installed. The free version is all you need.
1. Go to Google Search Console and sign in with your Google account.
2. While logged in, click the red ' ADD PROPERTY' button to add your website.
3. A popup will ask for your website URL, then click the blue 'ADD' button.

4. Next, Click the ' Alternative Method' tab. You will be given a code. Copy the code, and then paste it into your website <head> section, before the <body> section.
If you aren't sure how to do that, you can use the free AddFunc Head & Footer Code Plugin which makes it very easy.
After that is done, you just need to click 'verify' in Google Search console.
Submit URL To Google: Step 2
1. Having the Yoast plugin installed, from your WordPress dashboard click 'SEO and then 'Search Console.' Here you will be able to connect your website to Google search console.
2. From there, click 'Settings' and then 'Get Google Authorization Code.'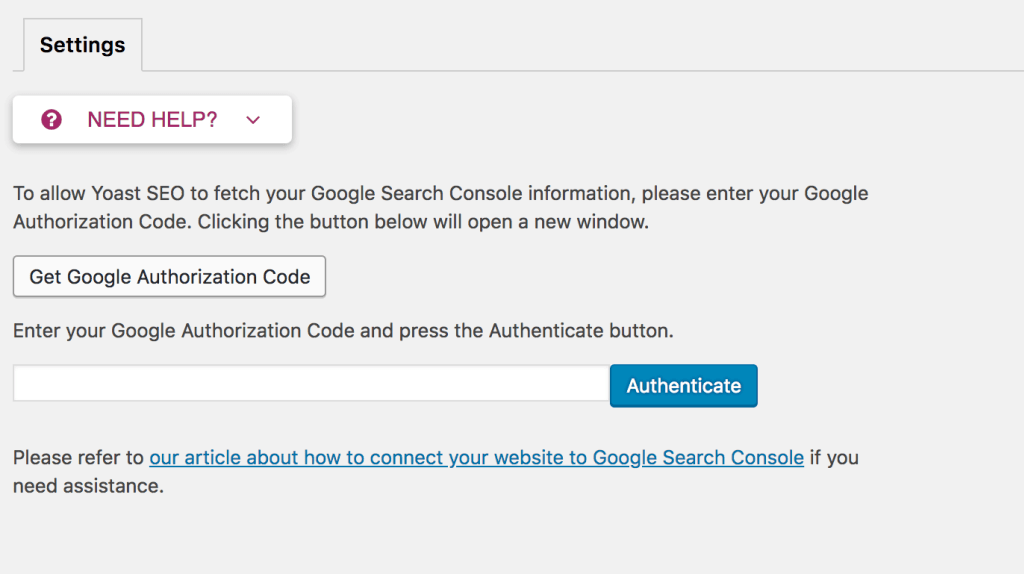 This will then give you a popup window, you will sign in to Google, it will give you a code. Copy the code and paste it into the box, and click the blue button 'Authenticate.'
Your website will now be connected to Google Search Console and Yoast.
Submit URL To Google: Step 3
The next step you need to do in order to submit a blog to Google, is you need to enable your sitemap in Yoast.
How To Enable Sitemap In Yoast
1. Within your WordPress dashboard, click 'SEO' and then 'General.'
2. Click on the 'Features' tab, and make sure that XML Sitemaps is set to 'on.' It will look something like this:

3. View your XML Sitemap by clicking the 'See the XML Sitemap' link. You may have to click the question mark ( ? ) symbol to see the link.
Submit URL To Google: Step 4
If you have made it this far, it is now finally time to introduce your blog to Google.
This step will show you how to 'Submit Sitemap to Google' which is the final step in this 'Submit URL to Google' tutorial.
Go to Google Search Console and select your website
In the left sidebar, click Sitemaps.
Remove outdated or invalid sitemaps like sitemap.xml
Click the Add/Test Sitemap button in the top right
Enter sitemap_index.xml into the text box that appears
Click Submit
That's all! You have officially told Google to start crawling and indexing your website.
How To Check If Your Website Is Indexed In Google
You can check if your site (or any site) has been correctly submitted to Google by searching the website address in Google like this:
Site:HerPaperRoute.com
To illustrate what we mean, here is what the search results look like, when we do this for HerPaperRoute.com: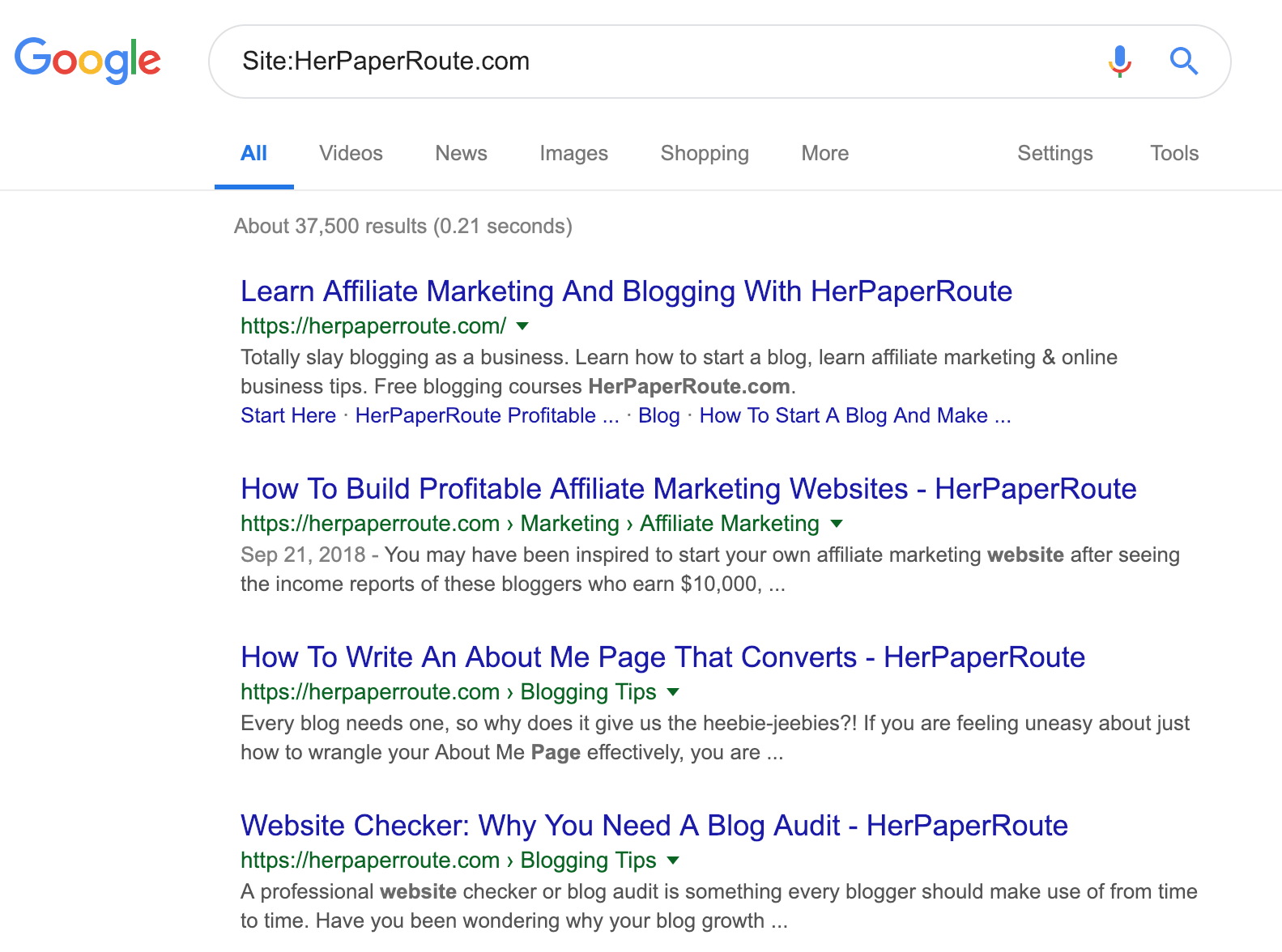 How Often Do You Need To Submit A Sitemap?
Once you have submitted your sitemap, Google will start crawling it on its own. Google will crawl and re-crawl your website periodically.
If you've made a lot of changes to your site recently, you may want to speed up the crawling process.
To do that, you can either resubmit a new sitemap using the steps above, or you can use the Fetch as Google tool to request Google to re-index your site.
How Do You Discover What Keywords Your Blog Is Ranking For?
Many online keyword tools will make you pay to see all of the keywords your website is ranking for.
But you actually have access to all of this information for free, already!
Discover the keywords your website ranks for with this Free Keyword Rank Checker
For More SEO Tips…
Enroll in our FREE SEO Course!
How To Improve Your Website Ranking In SERPs – 12 Dos & Don'ts Of SEO
How To Do Keyword Research For Free – 6 Ways To Find Keywords