How To Start A Blog For Free – The Ultimate Guide For Beginners. This is a newbie-friendly guide showing you how to start a blog step by step.
In just a few minutes, you will create your own blog that will be monetized. That means you will be able to make money blogging today.
But first, there are several things worth knowing that will help you and your blog succeed for the long run.
I have put this how to start a WordPress blog
for free beginners guide together for you with every detail you will need for a successful start to becoming a blogger.
There are over 5,000 words in this blogging tutorial, in fact!
Pour yourself a cup of coffee and let's start your blog for free right now!
How To Start A Blog For Free Step By Step: Starting A Blog Beginners Guide
First, congrats on deciding to start a blog! Blogging is a rewarding activity, that can also be very lucrative.
My name is Chelsea Clarke, I've been a full-time, professional blogger for over a decade.
In addition to this site Blogtips.com, I am also the woman behind the affiliate marketing blog HerPaperRoute.com as well as several other income-earning niche blogs.
Blogging has allowed me to quit my job in marketing, and stay home with my family, while earning over $140,000 per year online. Now, don't get me wrong, blogging is work. It takes time and dedication, yes.
But it has never once felt like work. And anyone can become a blogger.
You can follow this WordPress blog starting guide on this page, or you can enroll in my free Start A WordPress Blog course – both include all the information you need to start a professional self-hosted blog today.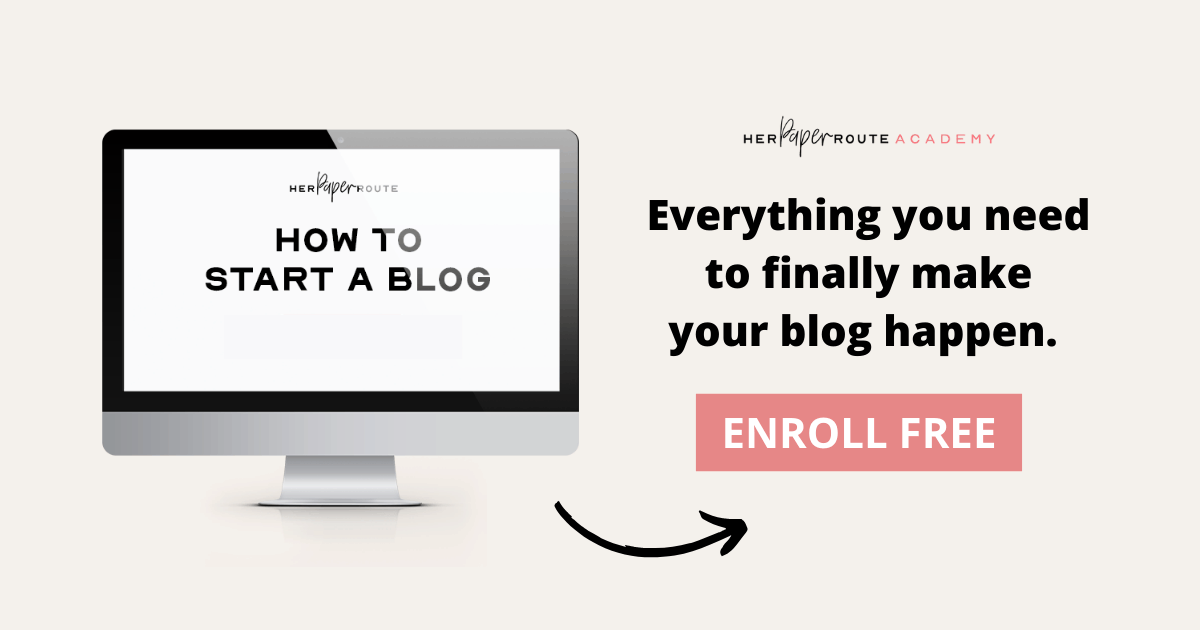 Not only will you have a proper self-hosted WordPress blog set up in just a few minutes, but it will also be ready to be monetized. So you can make money with your blog.
I will walk you through how to monetize your new blog so you can start making money blogging from the start.
Free Blogging Course
If you'd prefer to learn how to start a blog by taking my course, you can enroll for free here.
Why Use WordPress.org For Blogging?
course
I run all of my websites on WordPress.org, and although I have used other platforms at times, nothing can compare to the quality and ease of use you get with WordPress.org
Professional & Secure: WordPress is the highest standard in the industry.
It's Free: WordPress.org is 100% free to use, including free plugins, themes, add-ons . and more, which other platforms either don't offer, or they charge a lot for
It's User-Friendly: You can set it up, customize and maintain your WordPress website all on your own. You don't need to hire a web developer to do anything for you.
It is completely customizable: In addition to plugin-ins, there are endless amounts of quality WordPress themes you can use and easily customize to your liking – without ever having to know or do any code.
Why You Should Never Use A 'Free' Blogging Platform
You can't monetize a 'free' website platform such as Tumblr, Wix or the basic 'free' WordPress.com. Most 'free' platforms don't allow you run ads and no brand is going to sponsor you for paid blogging or influencer partnerships if you have a tumblr.com domain address. So unprofessional!
You don't own your website on a 'Free' platform. If you use Tumblr for your blog, Tumblr owns your blog, and they can shut you down at any minute. Which won't happen when you self-host and own your own website.
It's expensive: 'Free' platforms are actually much, much more expensive in the long run because with 'free' platforms you have to pay for upgrades (upgrades which are free and included when you self-host), and you are limited in everything you need to be able to run a blog successfully.
Most importantly, not self-hosting means that because you are unable to monetize, you are LOSING money every day. Think of the thousands of dollars you could be making from your blog if you were properly self-hosted?
Decide On Your Niche
What is a niche? Your niche is the topic that you blog about. It is wise to choose just one topic for your blog, and create all of your content to suit it.
This is because the more defined your niche is, the better chances you have of ranking on search engines, growing your blog faster, and being able to target more customers.
You want your blog to be focused on just one topic, so you can build your authority in the niche, and have an easier time growing an audience and selling niche-specific products to them.
Also, you don't want to confuse your readers with too many topics.
Your niche could be anything, but choose something that you will be excited to write about for years to come.
For SEO reasons, it is also wise to choose a niche that isn't already extremely saturated by other people blogging about the same thing.
That's not to say you can't blog about something that is a supersaturated niche, it's just that you will have a harder time ranking on search engines when your topic is already highly competitive.
I would recommend that you choose something as niche specific and low-competition as possible, at least for your first blog, so you can build up your authority and readership.
If you aren't sure what your niche will be yet, that's OK too. Your niche can develop as you develop as a blogger – don't let that stop you from starting a blog today!
Get Your Free Blog StartUp Kit Now
To help you blog like a pro from day one, become a blogtips.com member right now, and I will send you an ebook of the top 10 blogging resources. For free!
This book will give you a clear roadmap on what to do, how and when as a new blogger starting out.
Why A Good Web Host Is Mission Critical For Your Blog's Success
You need a hosting provider so that you can use WordPress.org, which allows you to completely own your website and have full control and free will to monetize it.
This is called 'self-hosting' and it is essential if you want to start a blog correctly, especially if you want to be able to make money with it.
Choose A Domain Name And Register WordPress Hosting
How to start a blog free guide: The only thing that you need to purchase when you start a blog for free is your web hosting.
Web Hosting – Web hosting allows your website to be 'live' on the Internet. You need web hosting in order to use your website and have other people see it.
The cost of web hosting is usually between $10-30 per month, but I have a special deal for you. See below!
Domain Name – Your domain is your blog's address.
For example: www.YourBlog.com (but 'YourBlog' will be whatever name you choose). Our domain is blogtips.com.
The cost of a domain name is usually about $10 per year. But today you will get a domain for free, too!
Domain + Blog Tips:
Don't use hyphens or numbers, as it's too easy for people to spell it wrong
Keep it under 15 characters – short and catchy
.com is always the best choice. If you can't get your desired domain as a .com, it's better to change your domain name idea to something else, rather than have to use .net, .org, ect.
How To Get Cheap Web Hosting: Bluehost Coupon
You need to purchase web hosting in order for your website to appear on the Internet.
I have been building websites for clients and myself over 15 years, and in that time I've worked with 30+ web hosting companies.
You have many web hosting options to choose from, but of all the web hosts I have used, Bluehost tops the list.
This 'How To Start A WordPress Blog' guide covers how to start a blog with Bluehost for just $2.95.
Normally, you'd have to spend over $10 per month to get a web hosting plan with a premium host but today you can get started for only $2.95/month with this exclusive Bluehost coupon!
With my special Bluehost discount, it is less than $3 per month to self-host your blog, including WordPress.org, a free SSL security certificate, and more.
Other Web Hosting Options
The guide on this page covers how to start a blog with Bluehost. But you actually have many other options to choose from when it comes to web hosting.
As well, Lyrical Host is an excellent hosting company too! They are becoming very popular among bloggers. If you go with Lyrical, use code BLOGTIPS for 10% off.
Set Up Hosting & Register Domain Name
To get started, check if your desired domain name is available by entering it in the box below:
Next, choose your Webhosting plan.
I recommend the Choice Plus plan (previously called 'Prime'). It includes free domain privacy, which is very important!
If you don't have domain privacy, anyone can look up your domain and see your name, email, home address and phone number.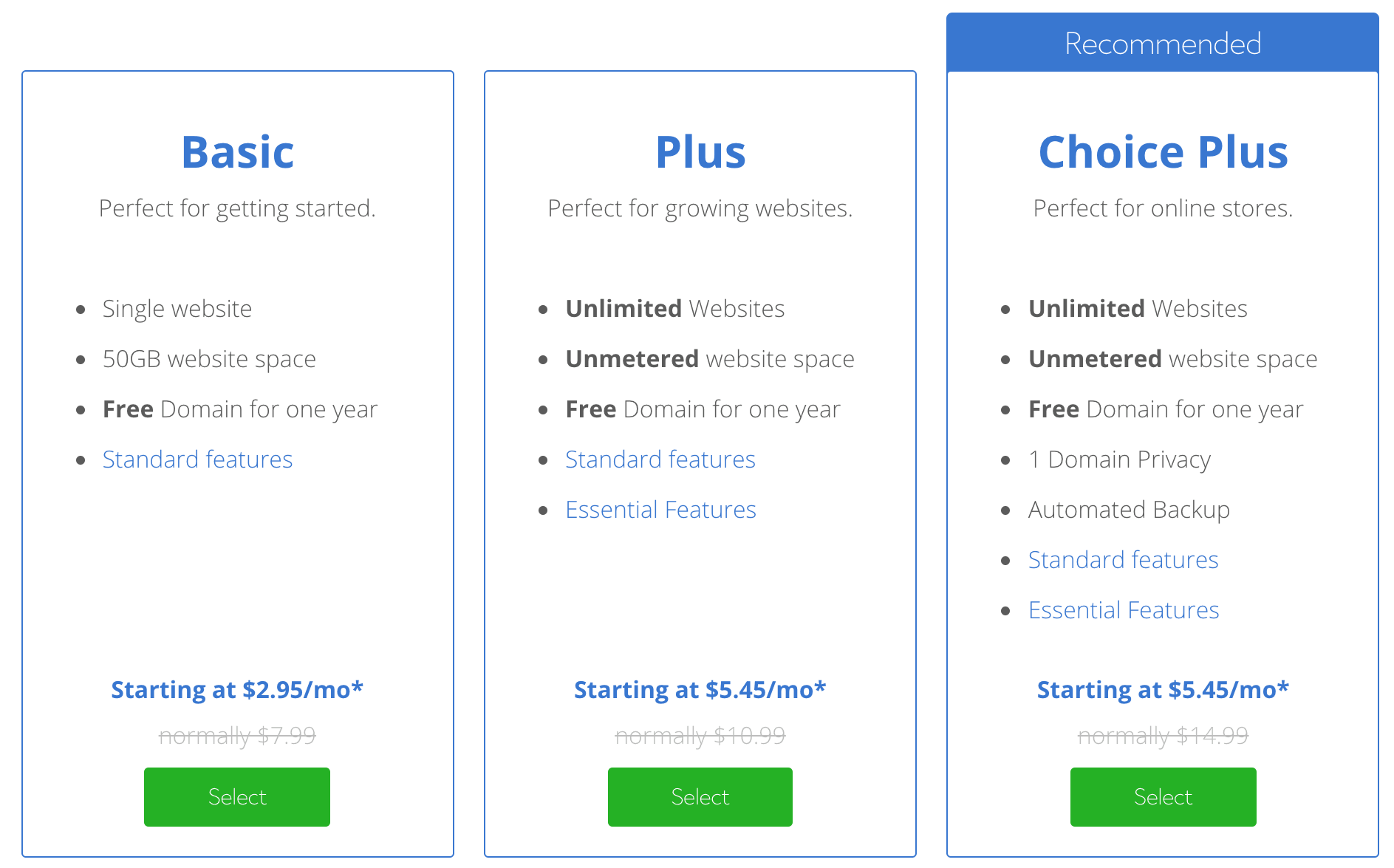 Whichever you choose, you can lock in the promo price for a set term, which is a great incentive that Bluehost offers to its customers.
You can register for 3 years and keep the new promo rate for all 3 years, for example.
Next, you get to register your domain! Enter your choice of name and Bluehost will let you know if it's available.
Or if you already have a domain registered somewhere else, you can add it here.
Next, you will be able to enter your contact information and complete your registration.
How To Start A Blog With Bluehost: Install WordPress
Welcome to your Bluehost dashboard. Click where it says 'My Sites' and then click the blue button 'CREATE SITE'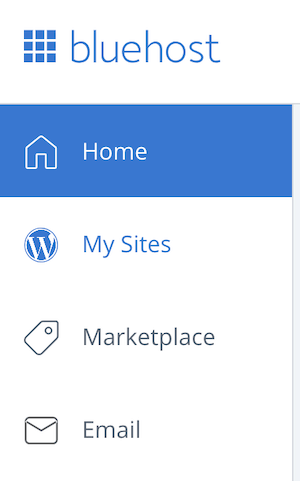 From there, all you need to do is follow the prompts and the 1-click WordPress install will take care of everything.
Really! It's that simple!
While WordPress installs, a green bar at the top of your screen will show you its progress. While this is happening, you may be prompted to choose a theme from Mojo Marketplace.
You don't have to choose a theme yet.
Once WordPress has finished installing, you will be able to log in.
You can access your login page at any time by typing www.yourdomain.com/wp-admin into your address bar.
Once logged in to WordPress, you will be on your WordPress dashboard which will look something like this:
On the left side is where you will see tabs to create pages and add your first post.
Take some time to familiarize yourself with this dashboard – you will use it a lot!
Set Blog's Permalink Structure
Google likes your pages and blog post URL links to be clean and tidy, without any extra information. This is an easy thing to set up.
From your WordPress dashboard, click on 'Settings' and then 'Permalinks.'
Then, select 'post name' and save.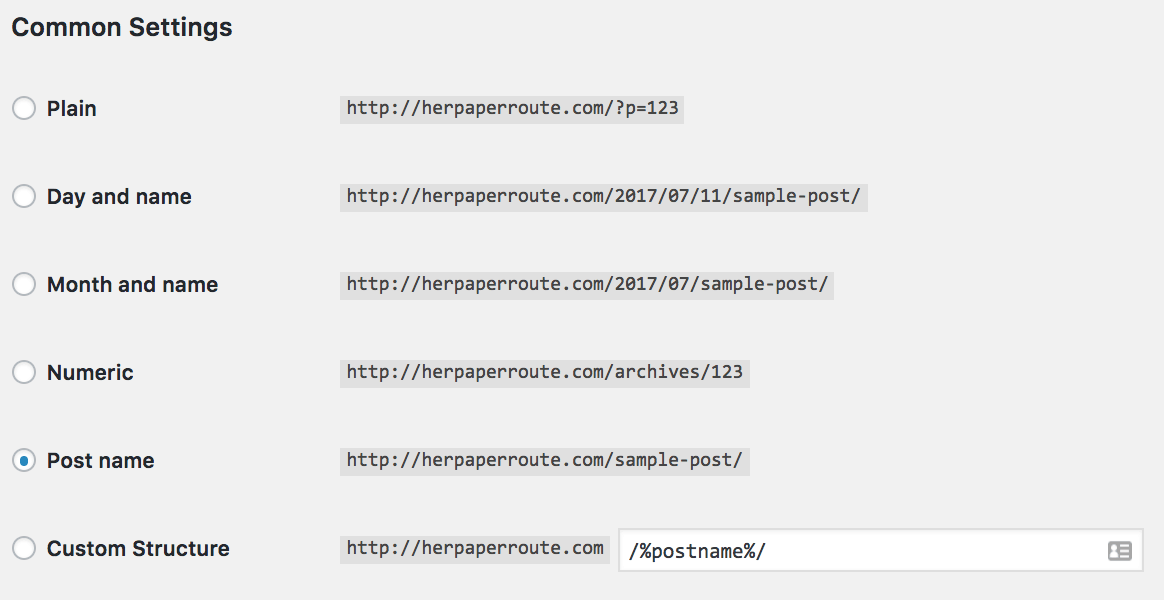 Now all of the pages and posts on your website will have the right format.
Install WordPress Theme & Plugins
When you first install WordPress, it is very basic, bare-bones.
In order to make it look and function how you want, you need to install a theme and some plugins.
You will need to use a theme that is responsive, secure and from a reputable developer.
There are many free WordPress themes out there, but I would never use a free WordPress theme, for many reasons.
You should use a premium WordPress theme because:
A premium theme is guaranteed to be bug-free and come with support from the developer, which free themes don't
WordPress makes updates several times a year, premium themes are updated to the current versions of WordPress, whereas free themes aren't
Premium themes function and look more professional because they are
With premium themes you can have exactly what you want, with very easy customization ability, no code needed. Free themes typically require some knowledge of code in order to tweak them to function the way you want them to.
I recommend the WordPress themes from StudioPress. I run all of our websites on the Genesis Framework and then use a StudioPress child theme.
StudioPress themes really are the best, most top of the line WordPress themes there are.
If you go with StudioPress/Genesis framework, you will be able to use the amazingly beautiful themes from:
Other quality sources for WordPress themes:
How To Install A WordPress Theme
Once you have purchased your theme, you will be given it as a .ZIP file.
Within your WordPress dashboard, go to Appearance » Themes then click the 'Add New' button.

You will then land on a page where you can upload the zip file.
Upload the .ZIP file and once it uploads, click 'Activate.'
Install Free Plugins
WordPress plugins make it possible to run special features and functions on your blog. WordPress has a huge gallery of free plugins you can easily install with the click of a button.
Go to Plugins » Add New
I recommend these plugins:
Akismet Anti-Spam
Google Analytics Dashboard for WP (GADWP)
Broken Link Checker
Shortlinks by Pretty Links
Woocommerce (to run an eCommerce shop on your website)
Maintenance Mode
If you want to keep your website hidden from the world while you are working on it, you can put it in 'maintenance mode.'
You can use the plugin WP Maintenance Mode for this.
This will put a wall up on your website, so only you can see its content, and then when you are ready to go live, you simply deactivate the plugin.
When you are ready to 'go live' you just need to deactivate the plugin.
Create Main Pages
From your WordPress dashboard, click 'Pages' and then 'Add New.'
Some pages you should create for your new website are:
Homepage
Contact Page
About Me – For an example of what to include on an About Me page, read this!
Disclosure, Privacy, and Term And Conditions pages.
I recommend that you purchase the Legal Bundle Templates which show you exactly what to include on your Disclosure, Privacy, and Term And Conditions pages. This is an important step not to overlook, as you need to protect your blog and yourself legally.
More information: The legal side of blogging.
Once you have your pages, you can then add links to these pages to your navigation menu by clicking 'Appearance' then 'Menus.'
Write Blog Posts
It's time to write your first blog post!
It doesn't have to be hard. Here are some writing a blog for dummies tips.
On deciding what topics to write about, you should think about what your niche target market wants to read.
What are their pain points? How can you help and teach them something with your blog?
How To Find Topics To Blog About Which Your Target Market Wants To Read
Go where your niche target market hangs out, such as online forums and Facebook groups, read their problems, questions and comments, and you will find tons of inspiration for blog topics.
Next, do keyword research. By doing keyword research, you will discover what people are searching for on Google, so you can write content that people want to read. Keyword research will also give you a multitude of blog topic inspiration.
Keyword Research And SEO Basics
You should take SEO (search engine optimization) into consideration when writing blog posts, to ensure that people can find your website on Google and other search engines.
This starts with doing keyword research to see what people are looking up on Google, and using those search terms in your blog post.
To learn how to do keyword research, enroll in our free SEO Made Simple course.
As well, have a read of our SEO Basics guide.
Basically, you want to use keywords in your post title, in your heading tags, in the alt text of your images and throughout your paragraphs.
Preferably keywords with a high search interest paired with low competition. KWFinder is a great tool for this.
For a more comprehensive tool, take your keyword research further and use
SemRush.
Doing keyword research is really not as boring or hard as it sounds – I promise! And doing it from the start will put you on the right track to blogging success in no time.
How To Write A Blog Post In WordPress
How to write a blog post in WordPress is quite simple.
From your WordPress dashboard, click 'Posts' and then 'Add New.'
You will then land on the WordPress post editor. It looks almost exactly like the WordPress page editor: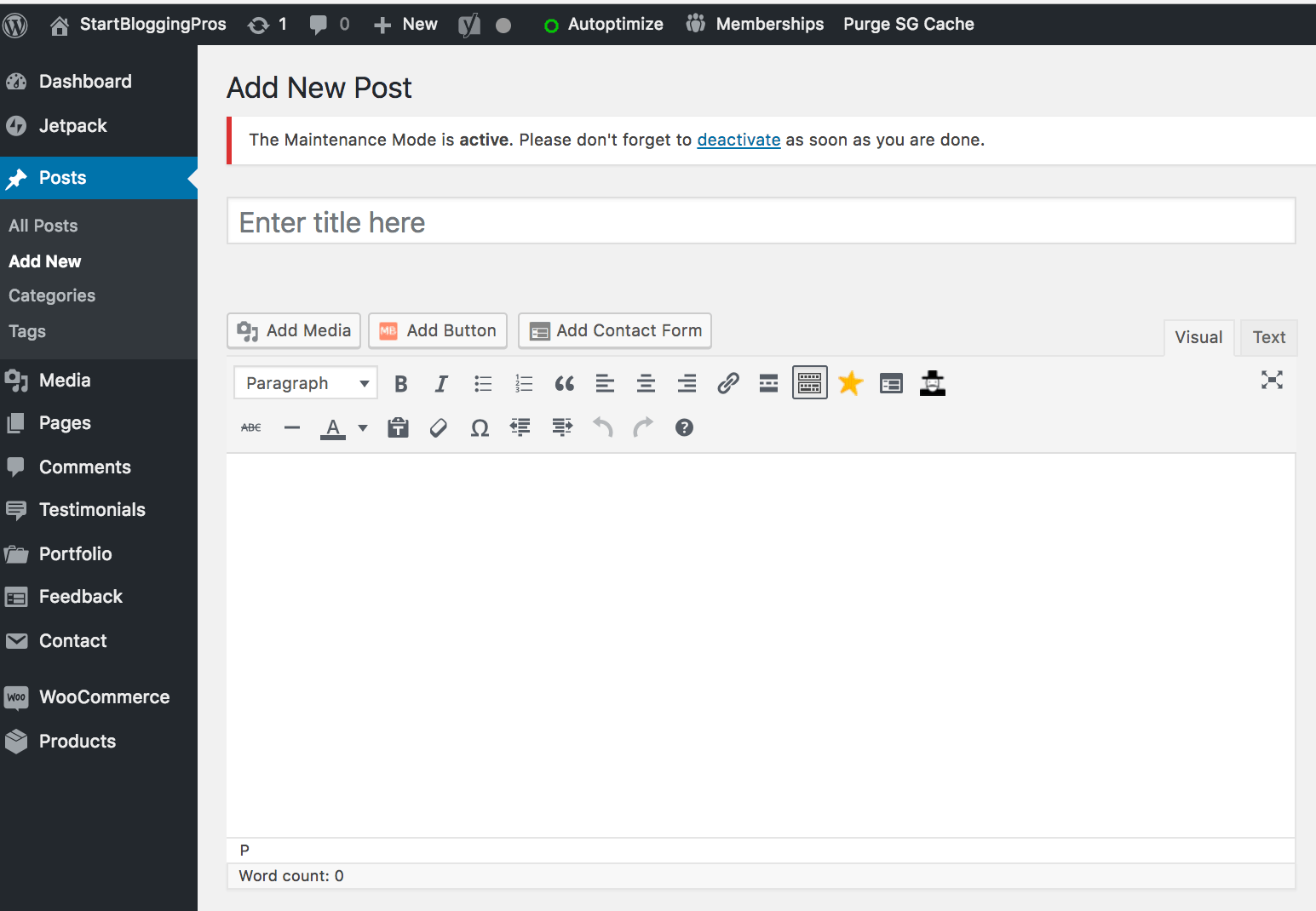 How To Write A Blog Post
This is where you write your blog post, add links, set the URL and so on.
To add an image, click 'Add Media' and upload your image.
From the drop-down box where it says 'paragraph', you can select the heading tags, which are called H1, H2, H3…
Heading tags help break up your paragraphs, so it isn't just a big wall of text. This makes it easier for people to read. Using bullets is another good way to break up text.
Blog Images
For each of your blog posts, create these graphics:
A Pinterest pin (600×900) – I insert my pins in my blog posts, you may also want to use it as the featured image
A Facebook/Twitter card (1024×512) – you will upload these under the social media tab in either Yoast, Rank Math or Social Warfare so they show when someone shares your post on social media
You will also need an image for the blog post's featured image. You could use either your Pinterest image or Facebook/Twitter image for this, or create a different size.
You can use Canva to create all of your graphics for free. For free places to source stock photography, check out this big list of styled stock photography!
Launch Your Blog
Once you have at least 6 blog posts written, it's time to launch your blog!
This just means that you 'go live' by publishing your blog post drafts or disabling 'maintenance mode' if you had it activated.
Now, you will need to connect your blog to Google Analytics, Google Search Console, and then submit your blog to Google for indexing.
==> This post explains how to do all of those important steps!
Launch your blog! Congratulations!
How to start a blog for free! Starting a blog #blogtips #blogging
Promote Your Blog
Next, it's time to promote your blog and drive traffic to it.
There is something called the 80/20 rule in blogging.
This refers to how a successful blogger spends 20% of their time creating content like blog posts, and then the rest of the 80% of time marketing and promoting their blog.
This is an important rule to live by.
You really do need to spend a great deal of your time marketing your work in order for people to see it. Especially in the beginning.
Create the social media pages for your blog, such as a Facebook page, Twitter, Pinterest and Instagram.
Connect with me on Pinterest and join our Facebook Group where you can promote your blog, and meet other bloggers in our community.
Build Email List
Building an email list and sending regular newsletters to the subscribers on it is mission critical for your blog's success.
Your email list is more important than how many social media followers you have, a thousand times over!
You will find that driving traffic to your blog, launching products and making sales is much easier when you have a dedicated list of people who are interested in what you do.
Your newsletter is how you nurture and grow the relationship with your audience, and how you convert them into lifelong customers.
How do you get people to sign up to your email list? You need to offer an incentive, called an opt-in freebie.
This is some sort of content/offer/product/special thing that you give your readers in exchange for joining your list.
I recommend you sign up for a free MailerLite account and use it for your email list and newsletters.
It is a very user-friendly tool with great features. It is free up to 1000 subscribers, so it's the perfect tool to use while your list grows.
If you need something a bit more professional and are ready to pay a monthly fee, you can use ConvertKit, which is the best email service provider. Plans there start at $29 per month.
I offer a course on list building right here, too.
Monetize Your Blog
Now that you have successfully set up a WordPress blog, it's time to monetize it!
'Monetizing your blog' just means that you have things on your blog that can make you money.
You have something for sale that your readers can buy.
There are a number of ways you can make money with your blog. The most common being:
Affiliate Links
Physical Products eCommerce (

Shopify

, Amazon FBA, drop shipping)
Digital Products (EBooks & Courses)
Membership/Subscriptions (Where people pay a monthly fee to access your website/downloads/services)
Ads (Google Adsense, MediaVine, AdThrive)
Your Own Services (Consulting/coaching, design, VA/freelance services, ect)
Blog Sponsorship
It's wise to monetize your blog in multiple ways at once. Let's talk about each.
Affiliate Links
Affiliate marketing is an excellent way to monetize your blog.
Affiliate marketing is when you partner with a brand as their affiliate, they give you a unique tracking code called an affiliate link.
You place the link on your blog, in your newsletters, and on social media, and whenever someone buys their product after clicking your link, you earn a commission for referring the sale.
You can start earning money as an affiliate from day one – you don't need to wait to have a following.
I recommend that you use affiliate links in every blog post you write.
In order to become an affiliate, you first need to join an affiliate network.
But before you start applying to affiliate networks, ensure your website is live, with no 'coming soon' or 'under construction' pages. Also, it's wise to have at least 6 blog posts published before you apply to an affiliate network.
Ensuring that those things are good to go will improve your chances of being accepted when the affiliate network's team reviews your application and blog.
Once you are accepted, you can start applying to the individual brands who host their affiliate programs on the network.
Apply To These Affiliate Networks
AWIN *there is a $5 sign-up fee, which is credited back to you once you are approved
Rakuten LinkShare
Commission Junction
Have a look at the Affiliate Program Directory at HerPaperRoute to discover and apply to hundreds of affiliate programs in a variety of niches.
To learn all about affiliate marketing, check out my book Affiliate Marketing Strategy.
Affiliate Marketing Quick Tip
Be sure to cloak your links with the PrettyLinks plugin, never post the direct affiliate links you are given in ShareaSale or Awin.
That way, when you sell your blog, the new owner can easily change the affiliate link in PrettyLinks to their own, one time and it will update all of the affiliate links sitewide.
Selling Products
You can sell physical and digital products from your website using the free Woocommerce plugin.
Dropshipping is another fantastic way to monetize your blog.
Dropshipping is when you list products for sale on your website that you don't actually have.
Then when someone buys it from you, you buy it for cheap from your supplier in China and the supplier ships the product directly to your customer.
Dropshipping can be incredibly lucrative since there is so little expense. No inventory, no shipping fees.
You can run a complete dropshipping store on your own website using the AliDropship plugin , which is a one-time payment for the license.
The AliDropship plugin makes it possible to import wholesale products from AliExpress right into your website, manages the supplier's inventory, pricing, sales and more.
Or, if you didnt want to run a store on your website, you could run your store on Shopify instead. Shopify costs $29 per month, after your free trial .
You can't use the AliDropship plugin on Shopify, but they have their own similar tool called Oberlo.
Selling Courses
The easiest and fastest way to sell online courses is to use Podia.
Podia is super user-friendly and makes it very easy to create, sell and manage your school.
Podia charges zero transaction fees!
Another option is to host your courses on your own website, using the Eduma theme and LearnPress plugin , which you can purchase bundled together for a one-time price of $69.
If you are comfortable customizing and editing your own themes, this is a great, cost-effective option.
If would rather have a done-for-you type school on a platform that requires little to no upkeep, hosting your school on Podia is the way to go.
Membership
To monetize your website as a membership where people pay a monthly subscription to access it, you can also use Podia. for this. As the Shaker plan includes a membership site.
Or, you can use the MemberPress plugin and host your membership system on yoru own website.
This plugin makes it possible to 'lock' certain pages and content on your website that can only be accessed when someone has an active paying membership.
Ad Revenue
Google Adsense, MediaVine and AdThrive are ad networks you can use.
When you place an ad from these networks on your site, you earn money everytime someone clicks the ad.
It can be a few cents per click to a few dollars. The more traffic you have means the more money ads will generate.
Google Adsense is a good place to start as a new blogger.
Once you have 25,000 monthly sessions you are eligible to join MediaVine (which pays better than Adsense), or once you have 100,000 monthly pageviews you can join AdThrive.
Your Own Services
Monetizing your blog with your own services like consulting/coaching, design services, virtual assistant or other freelance services is a great way to grow your income and authority.
Blog Sponsorship
Sponsorship involves a wide array of methods in which companies can provide money or other agreed upon benefits in exchange for advertising or promotion on your site.
This is often also known as Influencer Marketing.
You can choose to work with sponsors in ways that best fit your preferences.
Some bloggers like to write advertorial posts about a brand's product, do a paid Instagram shout-out, ect.
Others may prefer a more passive method of earning such as receiving a monthly fee for placing a banner ad in their sidebar.
It's even possible that a company may pay a substantial sum to become an exclusive sponsor of a well-known blog within their niche.
FTC Disclosure
If you are an American citizen, it is the FTC law that you must disclose an affiliate or sponsored relationship on your blog.
Other countries will have different laws. But even if you aren't American yourself, you will likely be working with American brands so you should always have your disclosure visible.
You can do this by adding a sentence to each of your blog posts that looks something like this:
Affiliate links may be used in this post. Which means that if you decide to purchase any of the products we recommend, we may earn a commission, which is at no cost to you. For more info, see our disclosure page.
Then link to your own disclosure page. You can click to see our disclosure page above to see what sort of information is worth having on your own.
How To Start A WordPress Blog In Conclusion
Congratulations on starting your professional WordPress blog!
Now that you know how to start a WordPress blog, now would be a great time to skim over this list of 30 Things To Do After Installing WordPress.
Remember, becoming a successful blogger takes time – but know that everyone started as a newbie in the beginning.
Keep at it and continue to learn a bit more each day. You will be a pro blogger in no time!
For the next steps in learning how to sustain your blog as a profitable business, enroll in Be Your Own Blog Boss.
Let's stay in touch, too. Follow me on Pinterest @BlogTips_
If you sound this How To Start A Blog tutorial helpful, please share it, or link to it from your own blog =)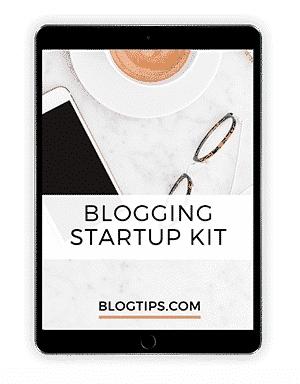 We send our members a weekly email with helpful, useful blogging tips, as well as share opportunities for you such as guest post invitations and paid blogging jobs. We will NEVER spam you.