Bluehost Review And Bluehost Coupon: Bluehost is one of the best WordPress hosting companies there is, famous for its affordability, uptime and speed.
This Bluehost review is based on my personal experience using it for many years, and taking into consideration quality, performance (unmatched uptime), affordability, customer support, and included features. In fact, Bluehost is officially recommended by WordPress.org!
This site uses affiliate content and ads Disclosure - Advertise With Us
Bluehost Review
Uptime

Speed

Customer Service

Features
Features
Bluehost includes premium WordPress.org hosting and full CPanel access with unlimited email service, SSL security and free domain in every hosting package.
Bluehost Coupon
$2.95
Web
Hosting
Discount
Deal
Click here to get your Bluehost coupon and the discount will automatically be applied. No coupon code needed!
Bluehost Review
Over my 15+ year career as a web designer, I have worked with over 30 web hosting companies while building websites for my clients and myself. I can confidently recommend that Bluehost tops the list as one of the best WordPress hosting companies.
Below you will find a comprehensive Bluehost review covering pricing, uptime, speed, features, customer service and more.
Bluehost Features
Unlimited Bandwidth
As a Bluehost customer, you will never be charged more for using more bandwidth.
Unlimited Storage
As your website grows, so will your storage needs and you will never be dinged or charged anything extra for needing more space.
Free SSL Certificate
Using an SSL certificate is what tells browsers your website is encrypted securely. This is a requirement to have but can be expensive elsewhere. All Bluehost customers are given an SSL certificate for free.
Free Domain
Bluehost includes your .com domain registration free of charge. Every domain (no matter where you register it) needs to be renewed each year.
Check if your desired domain is available below:
Although you get your domain free for the first year, Bluehost's domain renewal fee after that is about $4 higher than the industry standard.
Alternatively, you could register your domain at Namecheap, for example, and then point the nameserver to your Bluehost hosting account.
WordPress.org Hosting & One Click WordPress Install
This is how you self-host your website. Hosting your website on WordPress.org means that you completely own your website and all of its content. Unlike using a '"free" platform which actually is very expensive and ends up costing you more in the long run.
Related: What is self-hosting and why is it so important?
WordPress.org hosting gives you every opportunity to use themes, plugins, run your own ads (like Adsense and MediaVine), as well as the ability to easily make changes and customize your website at any time.
Bluehost provides a very simple One Click WordPress Install, which will have your website up and running in a matter of minutes, no tech or coding knowledge required.
Bluehost offers everything in their WordPress Hosting package
Unlimited Domains Add-on & Unlimited WordPress Installations
What this means is that with Bluehost you can host multiple websites under the one hosting account. Pay once for hosting and have as many websites within, all under one 'roof' for no additional charge.
99.9% Uptime
Bluehost servers have a high reputation for dependability.
Cpanel
Access your website and backend files at anytime. You have full control of your content and can access everything and make any changes whenever you want to.
Excellent 24/7 Technical Support
About 10 years ago, Bluehost had a less-than stellar customer service reputation. I personally experienced it back then, on a few occasions. I found chat support to be not as helpful or friendly as other companies.
I can confidently say that Bluehost has made MAJOR improvements with their customer service since then. In the past decade they have completely revamped and improved their customer service and chat support.
In fact, I have been blown away by the positive, friendly and super helpful support team they have now. Nowadays a chat agent picks up in less than a minute, and support tickets are answered almost as fast. My questions are responded to and solutions are given by a knowledgeable person who really seems to be happy to help.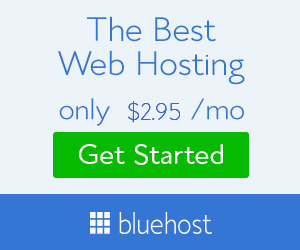 Bluehost Review Pricing & Plans
Bluehost has different types of hostings and plans.
Shared hosting: Shared hosting is the most popular solution and provides everything you need to get started, for the most affordable rate. With shared hosting, your website shares server resources with other websites. This is the perfect option if you are starting a new website or blog and don't have a high level of traffic. It comes with an easy to use customer dashboard. Shared Hosting is the best option for beginners, and you can always upgrade later if you need more resources.
Cloud hosting: This is great for moderate to high traffic websites. This is a more reliable upgrade from the shared hosting plan. With cloud hosting you have the on-demand option to switch to any of their servers automatically in case of failure or a spike in traffic.
VPS (Virtual Private Server) hosting: VPS provides more power and control, while still in a shared environment. Another upgrade to shared WordPress hosting.
Dedicated server hosting: This is great for existing websites with high traffic that require more resource-intensive needs. This may be useful if you want to have full control of managing the hosting on your own server, by yourself. This isn't a good option for a newbie, however.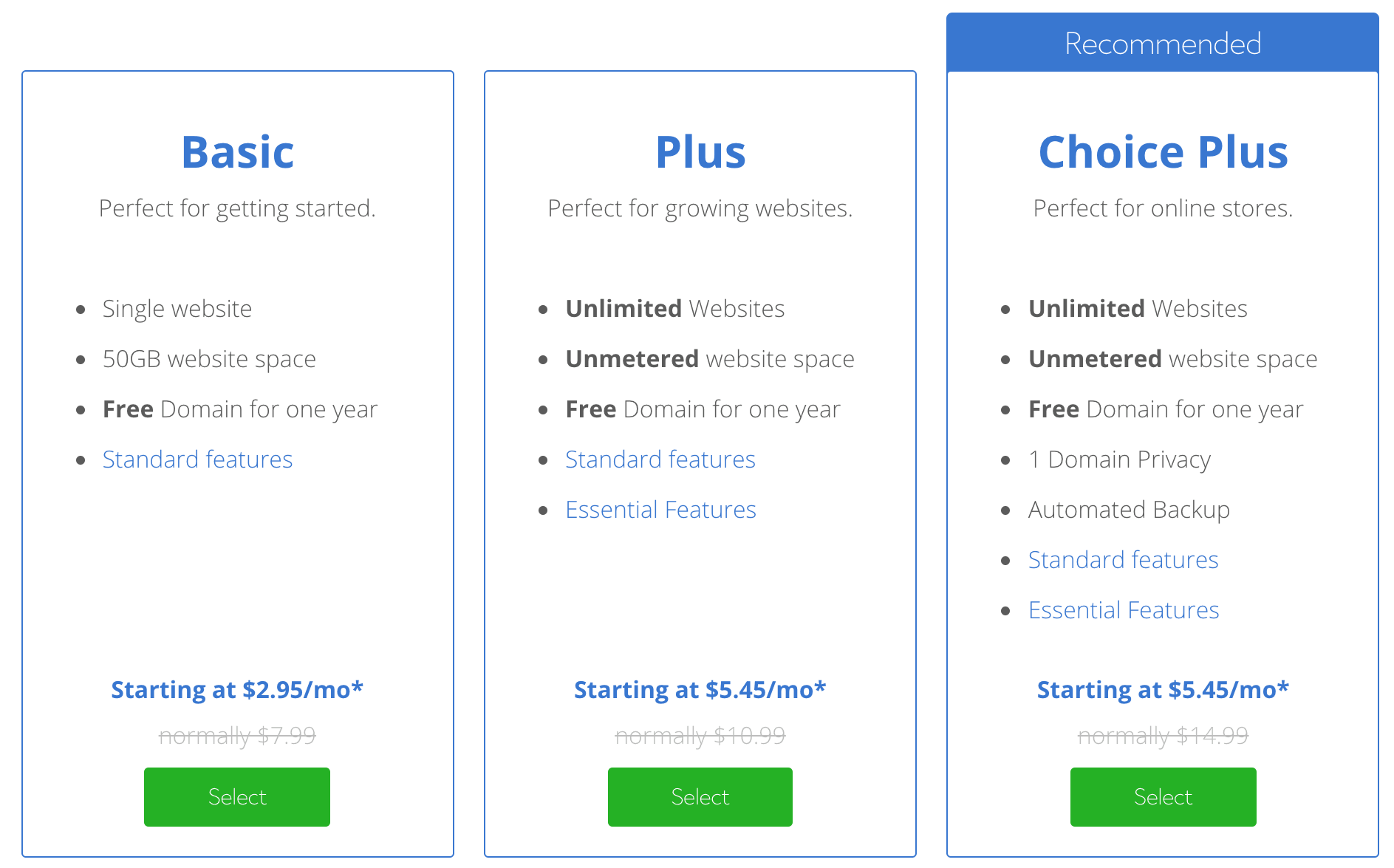 Bluehost Pricing Breakdown
These are the three Bluehost shared hosting plans and current Bluehost hosting coupons
Basic: When you only need to host one website $2.95 per month (reg $7.99)
Plus: Ability to host multiple websites $5.45 per month (reg $10.99)
Choice Plus (previously called Prime): Host multiple websites, plus additional features %5.45 per month (reg $14.99) – Best Deal!
Included in every plan:
Bluehost includes premium WordPress.org hosting and full CPanel access with unlimited email service, SSL security and free domain in every hosting package.
Click here to get this Special Bluehost Discount.
Save money on web hosting tip: You will save more money the longer term you select at checkout. If you choose a 3 year term, you will lock in this discount rate for the full 3 years!
This Bluehost coupon is an exclusive web hosting discount for Blogtips.com readers.
Bluehost Review: Bluehost Webhosting Speed Test
To really give a thorough Bluehost review, we need to test their server speed.
So, I tested Bluehost's servers first by using Pingdom. I analyzed a webpage that could be considered rather large, at 2.9 MB in size. The webpage gets about 12,500 traffic hits a month and has an oversized, uncompressed header image.

Yet even with these size deterrents, the page still loads fast, under 2 seconds.
I then ran the same page through Load Impact to test how the page handles an influx of traffic.
The app sent an increasing amount of virtual users to the page. The green bar is the rising amount of traffic, and the blue bar shows the load time.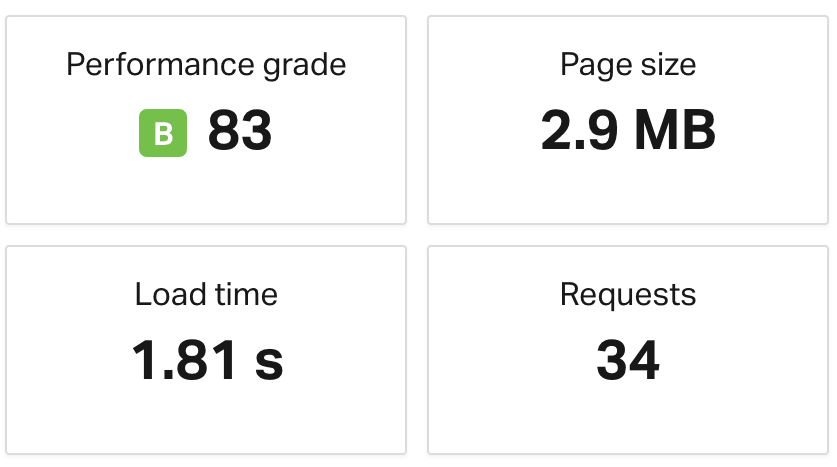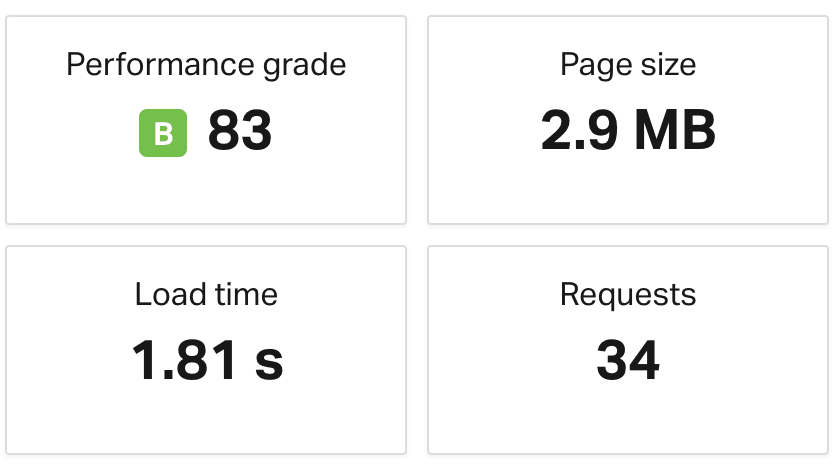 As you can see, the page stays relatively stable in load time and actually improves as the traffic increases.
Bluehost Review Pros & Cons
Pros
Pricing: Bluehost hosting plans are very affordable, one of the cheapest webhosting there is, without sacrificing quality.
Reliability: Bluehost is known for excellent uptime. Powering over 2 million websites worldwide, with minimum downtime.
Security: Bluehost security features for websites are better than most.
Free domain: You get a free domain name for 1 year when you signup.
Free SSL certificate: This is crucial for your website security.
Free email accounts: Unlimited emails and space!
30 Day money-back guarantee and no hidden charges: If you aren't satisfied, Bluehost will give you a refund to cancel service within the first 30 days.
Cons
Domain renewal fee: After the first year free domain promotion, Bluehost's domain renewal is higher than average. (We have a tip to avoid this below!)
Site migration isn't free: Moving a website from another host to Bluehost has a fee
Bluehost Coupon & Free Bluehost Set-Up Guide
$2.95
Web
Hosting
Discount
Deal
Follow our step-by-step guide on how to install WordPress with Bluehost and your professional self-hosted website will be set up in a matter of minutes!
Keep Reading:
Best Cheap WordPress Hosting Reviews
13+ Best Feminine WordPress Themes
After Installing WordPress: 30+ Important Things To Do Now
Free Keyword Rank Checker – Check Your Website Ranking For Free