We have a list of the best feminine WordPress themes, right here! There is absolutely no reason to have a dull looking website when there are so many beautiful, stylish, professional and feminine WordPress themes available to you. Give your blog a makeover today and try out one of these pretty blog layouts!
Haven't started your blog yet? Follow our FREE Step-By-Step How To Start A Blog Guide first.
This site uses affiliate content and ads Disclosure - Advertise With Us
Best Feminine WordPress Themes

Travel Journal Theme
This is one of the most beautifully designed feminine WordPress themes around.
The Travel Journal theme is complex without being complicated. Featuring built-in social media banners, full-width widgetized homepage and calligraphy font paired with minimal style elements. Fully responsive and optimized for SEO.
DEMO
MORE INFO
GET HOSTING

Marilyn Theme
The Marilyn theme is exceptionally stylish while encompassing a powerful editor that allows you to easily customize every color, font, and widget to your exact liking.
This pretty blog theme is designed by Bluchic, the authority designers of feminine WordPress themes.
This theme is also great for SEO purposes too. All Bluchic themes are built with schema.org microdata to help search engines easily read your site's content.
DEMO
MORE INFO
GET HOSTING
Astra Theme
If you are into photography or design, there is a good chance that you've heard of the Astra Theme.
This is one of the most popular feminine WordPress themes in the professional photography industry.
With this theme, you can create password protected galleries that only your client can view, making photo proofing with clients seamless. Your clients will be able to mark the images they like. There is even a special comment area where you and your clients can chat right there in the private gallery.
The Astar theme is easy to customize, including a simple, easy to use color picker allowing you to change all of the colors to ones that suit your brand or photography style at any time.
DEMO
MORE INFO
GET HOSTING
Niche Pro Theme
The Niche Pro theme by StudioPress makes an ideal Lifestyle blog layout. But with it's powerful ecommerce compatibility, it works beautifully as an online shop too.
This feminine WordPress theme is mobile responsive, meaning your website will be perfectly optimized for every browser, device, and screen size.
All StudioPress themes run on (and include) the Genesis Framework, allowing you a multitude of benefits. Genesis is one of the most popular systems in the blogging world, used by top bloggers.
Related: What Is The Genesis Framework And Why Should Your Website Use It?
Another great thing about StudioPress themes is that they come with a selection of custom page templates you have the option of using. These pre-made templates make setting up your website a breeze. You can be up and running in minutes and start customizing your new site with just a few clicks.
DEMO
MORE INFO
GET HOSTING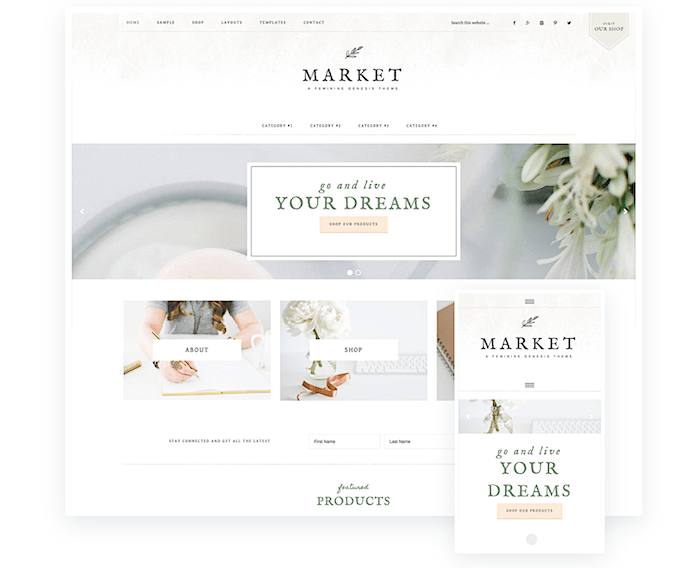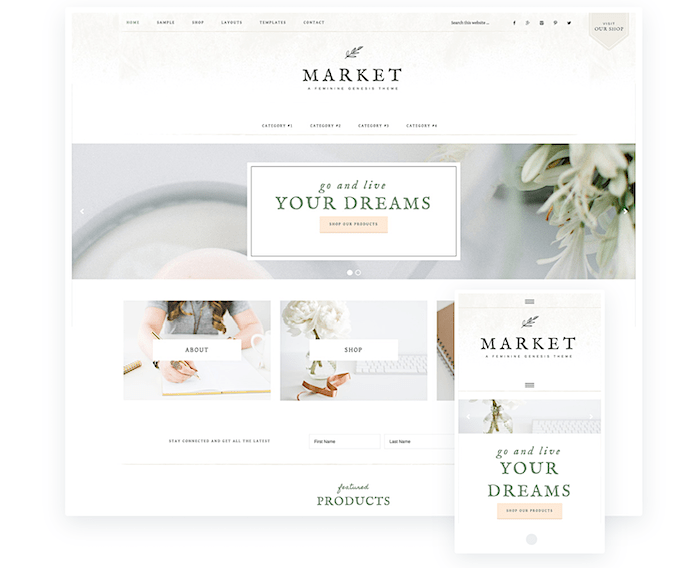 Market Pro Theme
Market Pro theme by StudioPress was built with creative makers in mind. This pretty blog layout and storefront would be perfect for an artist or any professional with a creative eye.
This theme also makes for an awesome ecommerce store. Just add the free Woocommerce plugin and you will be in business.
Another important note is that all StudioPress themes are Gutenberg compatible!
DEMO
MORE INFO
GET HOSTING

GlamPro Theme
The GlamPro theme by StudioPress looks like a fashion magazine, with perfectly styled fonts and layouts.
DEMO
MORE INFO
GET HOSTING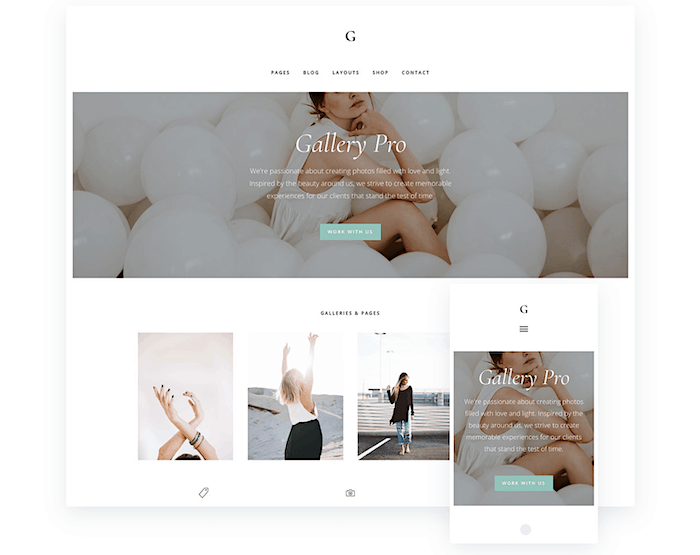 Gallery Pro Theme
The Gallery Pro theme by StudioPress boast multi-layered full width elements paired with crisp gallery image displays.
Combined with beautiful typography and unlimited customization options, this feminine WordPress theme is perfect for a modern minimalist blog.
DEMO
MORE INFO
GET HOSTING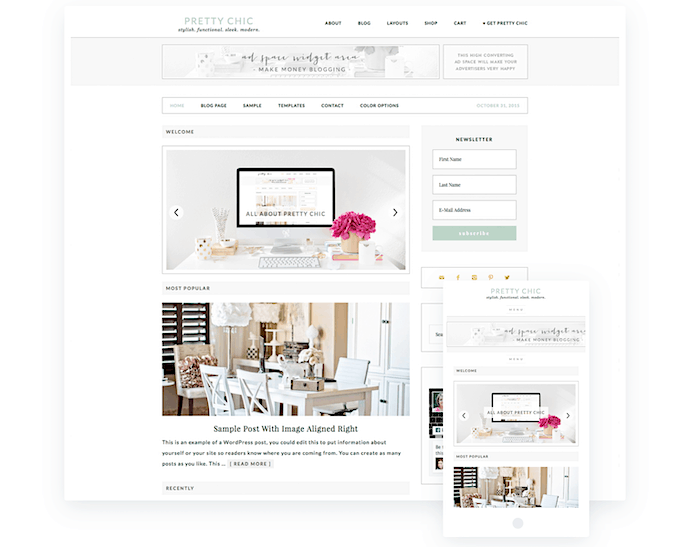 Pretty Chic Theme
Pretty Chic theme by StudioPress and Pretty Darn Cute has not one but three navigation bars, and a perfectly positioned header to display ads.
Having several options for the homepage layout and multple ways to display your blog posts makes this one of the most versatile and functional feminine WordPress themes around.
DEMO
MORE INFO
GET HOSTING
Maggie Theme
The Maggie theme by Bluchic is one powerful WordPress theme! It is responsive and mobile-optimized, so it looks beautiful on all screens. Bluchic designs many stylish and feminine WordPress themes, and Maggie is their newest!
This pretty WordPress theme comes with an easy to use editor panel that allows you to customize every font, color and element with ease – no coding or CSS knowledge necessary. No need to use girly pink colors if you don't want to! Everything is changeable.
The homepage was designed with your newsletter opt-in forms and sales offer in mind, with widgets made specifically to encourage attention and clicks to your call-to-action.
All Bluchic themes are built with schema.org microdata to help search engines easily read your site's content and display it in relevant snippets in search results.
DEMO
MORE INFO
GET HOSTING
Related: After Installing WordPress: 30+ Important Things To Do Now

Divi Theme
Divi by Elegant Themes is one of the most popular theme builders for newbie bloggers. This is because Divi is a completely drag-and-drop builder, making website customizations simple and limitless.
DEMO
MORE INFO
GET HOSTING
GirlyPro Theme
GirlyPro is one of the pre-designed layouts for the MagPlus theme. There are 40 layouts to choose from when you purchase this multi-functional and responsive theme.
Take a look at the many feminine WordPress themes included in MagPlus below.
DEMO
MORE INFO
GET HOSTING

Avondale Theme
The Avondale Theme was built for fashion bloggers, incorporating an easy way to display your Reward Style or ShopStyle Collective shop widget before the "read-more" button.
This stylish feminine WordPress theme has the ability to show not one but two featured images per blog post.
The possibilities to arrange the layout to your own liking is endless, as every element in this theme can be disable to suit your style.
DEMO
MORE INFO
GET HOSTING
Keep Reading